Your Moment To Shine
The payroll industry's biggest event of the year, and we'd love to showcase you at our 42nd Annual Payroll Congress in Nashville, Tennessee!
From booth selection, to sponsorships, and unique branding opportunities, we are ready to provide the best opportunities to gain knowledge, gather information, and build relationships that bring success to all! Here's your chance to stand-out in front of the rest!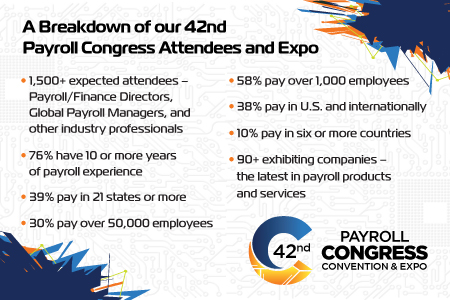 What Is Included With Your
Payroll Congress Booth
• One (1) complimentary full conference registration
• 50% discount on one (1) full conference registration
• Up to 10 Expo passes for your current customers or business partners not attending the full conference
• Five (5) booth staff Expo-only badges for your booth staff (per 10 x 10 booth)
• 8-ft. back drape and 3-ft. side drape
• Access to Exhibitor Lounge for refreshments on Tuesday, Wednesday, and Thursday
• Lunch for Expo-only booth staff on Tuesday, Wednesday, and Thursday
• Company name, contact information, and description in onsite conference materials and the conference app**
• Recognition in pre- and post-show issues of PAYTECH magazine and PAYTECH-Digital**
• Company name listed on Payroll Congress microsite
• 24-hour hall security (exhibitors are responsible for items in their booths)
**Subject to production deadlines